—Global Recording Artist, Music Icon, Actress, Humanitarian—
—Honorary Doctor of Arts // Cavaliere' (Ordine al Merito della Repubblica Italiana)—
International singing superstar, Sarah Brightman is the world's biggest selling Soprano. She pioneered the classical crossover music movement and is famed for possessing a vocal range of over 3 octaves. Sarah is the only artist to have simultaneously topped the Billboard dance and classical music charts. Her voice has rung out from theatres, arenas, cathedrals, world heritage centers and Olympic stadiums, bringing to life some of the world's most beautiful music. Sarah's work transcends any specific musical genre, synthesizing many influences and inspirations into a unique sound and vision. Today, she remains among the world's most prominent performers, with global sales of 30 million units having received more than 180 gold and platinum awards in over 40 countries.
Born and raised in Berkhamsted, England, Sarah began singing and dancing at the age of three.  She began her career as a member of the television dance troupe, Hot Gossip and released several successful disco hit singles as a solo performer. In 1981 Sarah made her West End musical theatre debut in Cats and met composer Andrew Lloyd Webber. She went on to star in several Broadway musicals, including the world-renowned The Phantom of the Opera, where she originated the role of Christine Daaé. In 1987, the Original London Cast Album of the musical was released in CD format and sold over 40 million copies worldwide, making it the biggest-selling cast album of all time. After many successful years on the musical stage Sarah decided to make a fresh start and resumed her music career with former Enigma co-producer Frank Peterson.  Their first release, Dive (1993), was a water-themed pop album that featured "Captain Nemo", a cover of a song by the Swedish electronica band Dive. The album gave Sarah her first success as a solo recording artist and garnered a Gold award for exceptional international sales. Sarah and Frank's second collaboration yielded the pop rock album Fly which catapulted her to fame across Europe with its hit track "A Question of Honor" – a mélange of electronic, rock, classical strings and excerpts from the Alfredo Catalani opera "La Wally". A subsequent single "Time to Say Goodbye" – which she performed as a duet with tenor Andrea Bocelli, became an international success selling 12 million copies worldwide. Later albums including Eden (1998) La Luna (2000), Harem (2003) and Symphony (2008) all became chart topping Billboard hits and were accompanied by live world tours.
The last several years have seen Sarah being invited to perform at high profile events around the world including the 2007 Concert for Diana where she performed with Josh Groban and the Kennedy Center Honors. Sarah is the first artist to have been invited to perform the theme song at the Olympic Games on two occasions. The first was at the 1992 Barcelona Olympic Games where she sang "Amigos Para Siempre" with the Spanish tenor Jose Carreras with an estimated global audience of a billion people. Sixteen years later in Beijing, this time with Chinese singer Liu Huan, Sarah performed the song "You and Me" to an estimated 4 billion people worldwide.
Sarah has appeared in several films including Repo! The Genetic Opera (2008), a rock opera-musical film directed by Darren Lynn Bousman, and Stephen Evans' First Night (2011), starring opposite Richard E. Grant. In addition, she has formed her own production company, Instinct Films, where her first film is currently in pre-production.
In October 2011, Sarah made a special appearance during the finale of The Phantom of the Opera at The Albert Hall; a fully staged production performed at the famous London venue, which marked 25 years since the musical received its world premiere. Introduced as his "Angel of Music" by Andrew Lloyd Webber, Sarah performed the title song backed by five past, present and future Phantoms. The grand production was broadcast live into cinemas around the globe to an audience of tens of thousands. On January 26th, 2013, Sarah made another guest appearance to commemorate the 25th Anniversary of The Phantom of the Opera on Broadway in New York City at the Majestic Theatre.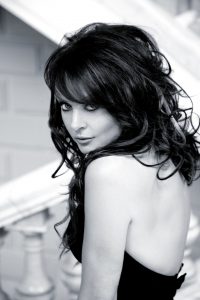 Driven by passion and purpose, and a willingness to push her limits as an artist Sarah continues to grow and develop her career. In 2012, she accepted the UNESCO nomination to be an "Artist for Peace" Ambassador and actively engaged in Panasonic's UNESCO World Heritage Centre endeavors, and stars in their The World Heritage Special campaign.
On September 26, 2012, Sarah released the first track "Angel" from her highly anticipated new album, "Dreamchaser" which was released worldwide in April, 2013 and debuted at #1 on the Classical soundscan charts (Canada/US) and #5 (Canada) and #17 (US) on the Billboard Top 200. Brightman's "Dreamchaser" World Tour kicked off in China 2013, and touched upon five continents and included over 100 concert dates throughout 2013/2014.
On October 10, 2012, Brightman hosted a press conference in Moscow announcing her intention to launch on a future orbital spaceflight mission to the International Space Station (ISS). In January 2015, Brightman began her extensive Cosmonaut training in Star City, Russia until May 2015, when she announced the postponement of her space flight plans for personal family reasons.
In addition to Sarah's role as a Challenger Learning Center Advisory Board Member (2013), a Virgin Unite youth STEM scholarship benefactor (2012-2016), Brightman continues to advocate advance education and empower the role of girls and women in science and technology in an effort to help close the gender gap in the STEM (Science, Technology, Engineering and Mathematics) fields. In July 2015, the inaugural Andrew Lloyd Webber Foundation Sarah Brightman Music Scholarships were also awarded to their first recipients. The scholarships will support students in their postgraduate studies at the Royal Northern College of Music on the two-year Master of Music Programme.
On June 2nd, 2016, Sarah was bestowed the prestigious Italian decoration 'Cavaliere' in the Ordine al Merito della Repubblica Italiana, by the Consul General of Italy, Francesco Genuardi. The private ceremony was held on the occasion of the Festa della Repubblica Italiana (The Italian National Day) at the Consulate General of Italy in New York City.
In 2016, Sarah brought her glamorous "Gala – An Evening with Sarah Brightman" tour to Japan, China, Taiwan, Korea and Mexico. Not only did Sarah perform many of her greatest hits with various orchestras but also stepped from behind the microphone and embraced the role of conductor during these performances.
Brightman also accepted the honor as 'Godmother' of Seabourn's newest vessel, Seabourn Encore, when the ship was named at the port of Singapore on January 7, 2017.
In late 2017, as part of the Royal Christmas Gala tour, Brightman entertained a 22-date tour across Europe. Sarah, together with Gregorian, Mario Frangoulis, Narcis, Fernando Varela and other special guests, performed a festive holiday show with orchestra, in theatres and arenas across the continent.
In February 2018, Sarah joined in on the incredible milestone celebration of the 30th Anniversary of Phantom of the Opera on Broadway, at the Majestic Theatre. Sarah surprised the sold-out audience with a performance of the title song, supported by phantom Peter Joback during the finale.
In Shanghai, China on June 7th, 2018, Sarah, together with Shanghai Media Group Live and Really Useful Group, announced that she would be joining a team of celebrity judges on the first ever-musical theatre casting TV show, which will be searching for first Chinese Phantom in 2020. The Chinese Phantom who is selected, will not only perform on stage in the Chinese production of The Phantom of the Opera, but also train and even possibly appear in London's West End or the New York City Broadway production.
In recognition of her outstanding contribution to music and theatre, The University of Hertfordshire, the county in southern England where Sarah was raised, will present her with the degree of Honorary Doctor of Arts (Hon DArt) in September 2018. This honorary award will be conferred during the commencement at the Cathedral and Abbey Church of Saint Alban.
Brightman returned to the recording studio in 2016, to begin working on her brand new album 'HYMN' with long time producer and collaborator Frank Peterson, which was released on November 9th, 2018 and debuted at #1 on the Classical and Classical crossover Billboard charts. In support of the release, Sarah is engaging in the most adventurous world tour of her career. The critically acclaimed HYMN World tour began in South America in September 2018 and will include over 125 shows, on 5 continents throughout 2020.
On November 15th, 2019, Sarah released her much anticipated "HYMN In Concert" film on DVD, Blu Ray, and Deluxe Special Editions (DVD/CD and Blu Ray/CD). "HYMN: Sarah Brightman In Concert" was captured from the Festspielhaus in the enchanted Bavarian Alps. Conceived and created by Sarah Brightman, Anthony Van Laast ("Mamma Mia", "Beauty and the Beast"), and Frank Peterson, the two-act performance is a hybrid of a musical film and a large-scale concert production.
On June 18th, 2020, the Hollywood Chamber of Commerce announced the Class of 2021 honorees to receive 'stars' on the world-renowned Hollywood Walk of Fame. Brightman was chosen from among hundreds of nominations and will be honored with a 'star' in recognition of her outstanding contribution within Live Theatre/Live Performance. Details on when Brightman's 'star' will be unveiled along Hollywood's most majestic walkway are forthcoming.
In November 2020, Brightman released her compilation album, 'FRANCE' exclusively in France and Belgium, which included duets with artists Vincent Niclo, I Muvrini, Alessandro Safina, Roch Voisine, as well as other special guests such as Andrea Bocelli performing beloved classics.
On December 20th, 2020, Brightman headlined her  first-ever global livestream event, Sarah Brightman: A Christmas Symphony from the historic Christ Church Spitalfields in London, also featuring special guests Andrew Lloyd Webber, Aled Jones and choir Gregorian. For this special event, Brightman also partnered with The Global FoodBanking Network in an effort to fight hunger around the world.