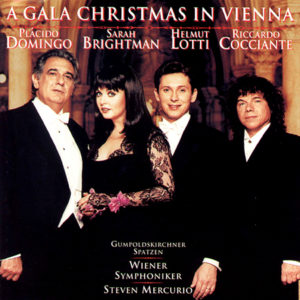 This CD was recorded live at the Rathaus in Vienna on December 21, 1997. Sarah, Placido Domingo, Riccardo Cocciante and Helmut Lotti perform a myriad of Christmas songs, including "The Closing of the Year" and "Santa Claus is Coming to Town."
Sarah also performs the Bee Gee's hit song "First of May" (which would later be a part of the Eden tour repertoire). Sarah's studio version of "First of May,", accompanied by the English National Orchestra, is also featured as an added bonus track.
From the liner notes of the CD:
'Holiday Greetings from Dr. Michael Haupl, Mayor and Governor of Vienna' —-
Once again, the city of Vienna is celebrating the Christmas holidays together with millions of television viewers. I am delighted that our "Christmas in Vienna" concert is carrying a message of peace and joy to the world outside.
For this joyous season, the concert hall of Vienna's Town Hall serves as the splendid setting for these musical greetings from the Austrian capital.
Placido Domingo, who has entertained his many fans with Christmas melodies since 1992, is joined this year by the outstanding artists Sarah Brightman, Riccardo Cocciante, and Helmut Lotti, in collaboration with the Vienna Symphony and composer/arranger Christian Kolonovits.
In the hopes that all of you, both near and far, will enjoy another unforgettable evening in Vienna, "the city of music," I wish you a Merry Christmas and a happy, healthy New Year.
Track Listing
1. Christmas Prologue
2. Deck the Halls
3. Closing of the Year
4. Tu Scendi Dalle Stelle
5. Walking in Air
6. Adeste Fideles
7. Away in a Manger
8. Old Fashioned Christmas
9. First of May
10. Re Gesu
11. Frohliche Weihnacht
12. Cantemos Rapaces
13. Christmas Is Here Again
14. Child In a Manger
15. Angels From the Realms of Glory
16. Another Christmas Song
17. Santa Claus is Coming to Town
18. Happy Christmas
19. Silent Night
20. First of May