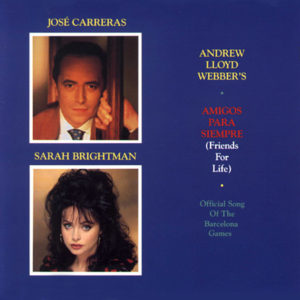 Sarah had been working for a year on a solo album (later to be named Dive) when she was invited to perform "Amigos Para Siempre," the official song of the 1992 Olympic Games in Barcelona.
This duet with Jose Carreras features music by Andrew Lloyd Webber. The lyrics of the English version are by Don Black, while the lyrics to the Spanish version are by Don Black and Gloria M. Estefan (readapted by Josep Maria Andreu).
The CD single contains the English and Spanish versions, plus the Opening Ceremony of the Barcelona Games. The 7" single omits the Spanish version.
From the liner notes (written by Andrew Lloyd Webber) from the Surrender album about this song:
"This song was commissioned from me as the theme tune to the Olympic Games held in Barcelona in 1992 and performed live by Sarah Brightman and Jose Carreras at the closing ceremony, which was watched by a TV audience of 1.2 billion."
Track Listing
CD

Amigos Para Siempre-English
Amigos Para Siempre-Spanish
Opening Ceremony – Barcelona Games
7″

Amigos Para Siempre
Opening Ceremony – Barcelona Games