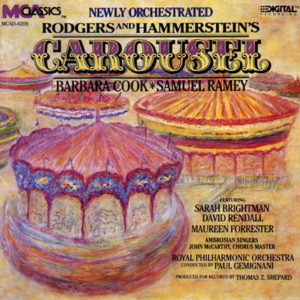 Sarah is featured as Carrie Pipperidge in this "newly orchestrated" studio recording of Rodgers and Hammerstein's Carousel, starring Barbara Cook and Samuel Ramey.
Recorded at London's Air Studios and CBS Studios in 1987, this album also features the Royal Philharmonic Orchestra conducted by Paul Gemignani.
From the liner notes:
To justify this new digital recording – and to do full justice to the score – producer Thomas Z. Shepard made the decision to recruit a carefully chosen international cast to be made up of outstanding performers from both the musical stage and opera.
For it is undeniable that one of the great accomplishments of Carousel is that, with the exception of Gershwin's Porgy and Bess, it was the first major breakthrough in bridging the gap between these two forms of theatre.
This is apparent not only in the amount of music contained in the work – almost three times as much as the dialogue – but especially in the richness of its texture and in the way connective passages are used as the extension of speech and then developed into solos, duets, and choruses.
In the words of the composer, "Oscar never wrote more meaningful or more moving lyrics, and to me, my score is more satisfying than anything I have ever written.
Track Listing
1. The Carousel Waltz
2. Mister Snow
3. If I Loved You
4. June Is Bustin' Out All Over
5. Mister Snow (Reprise)
6. When The Children Are Asleep
7. Blow High, Blow Low
8. Soliloquy
9. A Real Nice Clambake
10. Geraniums In The Winder
11. Stonecutters Cut It On Stone
12. What's The Use Of Wond'rin
13. You'll Never Walk Alone
14. The Highest Judge Of All
15. If I Loved You (Reprise)
16. You'll Never Walk Alone (Reprise)