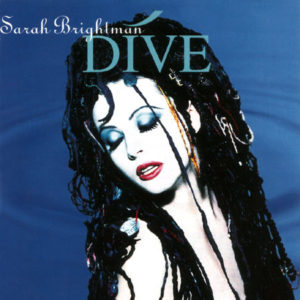 Dive marks an important milestone in the career of Sarah Brightman. Not only does it signal a departure from her successful musical theatre career with Andrew Lloyd Webber and her return to her pop roots, it marks her first collaboration with German producer, Frank Peterson (the co-producer of Enigma's first album). An association that has continued to this day, the team has produced a stunning body of music in the decade that they have worked together.
Dive is an aqua-inspired album, the first of many thematic recordings that they would produce together. Like the ocean, this album is magnanimous and mercurial. It is at once heaving with passion ("Salty Dog"), tranquilizing ("La Mer"), atmospheric ("Captain Nemo") and sensual ("Once In A Lifetime").
The album was co-produced by Frank Peterson and Sarah Brightman. In addition to lead vocals, Sarah is also credited for keyboards and background vocals. Sarah co-wrote the lyrics of "Once in a Lifetime" and "La Mer" with Peterson; "When it Rains in America" with Peterson and Schwarz, and "By Now" with Schwarz. Simon Fowler (who photographed Dive and all of Sarah's albums since) captures Sarah in a sheer gold outfit on the inside sleeve.
Track Listing
1. Dive
2. Captain Nemo
3. The Second Element
4. Ship of Fools
5. Once in a Lifetime
6. Cape Horn
7. A Salty Dog
8. Siren
9. Seven Seas
10. Johnny Wanna Live
11. By Now
12. Island
13. When it Rains in America
14. La Mer
15. The Second Element II