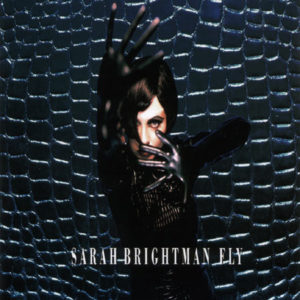 Fly is Sarah's second collaboration with Frank Peterson. The album is rock-oriented and far edgier than its predecessor Dive.
Sarah co-produced the album with Frank Peterson and also co-wrote lyrics for "The Fly," "Why," "You Take My Breath Away," and "Fly" with Peterson, plus "Heaven is Here," and "I Loved You" with Thomas Schwarz.
Sarah also performs on lead vocals, piano and background vocals (virtuoso performances in their own right, such as on the impossibly high chorus of "How Can Heaven Love Me").
On the two original duets in the album, the vulnerability of Sarah's voice strikes a gorgeous antithesis to the raspy vocal performances of Tom Jones and Chris Thompson (of Manfred Mann's Earth Band fame).
On "How Can Heaven Love Me," Sarah's vocal textures run the gamut, from sweetly pure to positively penetrating.
After the initial release of Fly, Sarah enjoyed meteoric success with her single "Time to Say Goodbye," a classical duet with Andrea Bocelli. Due to public clamor for the song, subsequent pressings of Fly include "Time to Say Goodbye," even though it does not thematically fit the rest of the album.
"Question of Honour" is a fusion of rock and opera that is nothing short of masterful. The song begins with an aria from Catalani's "La Wally," which is eventually layered into a synthesized and ebullient new composition by Peterson, featuring Sarah's dulcet voice set against a male chorus.
Other highlights include the Indian-inspired "You Take My Breath Away" (later reprised in Harem) and the wonderfully sparse and chaste "Murder in Mairyland Park."
Fly was released only in Europe by East-West (Warner Music's European arm) and is not available in the US.
Track Listing
1. Time To Say Goodbye ( Con Te Partiro )
2. The Fly
3. Why
4. Murder in Mairyland Park
5. How Can Heaven Love Me
6. A Question Of Honour
7. Ghost In The Machinery
8. You Take My Breath Away
9. Something In The Air
10. Heaven Is Here
11. I Loved You
12. Fly