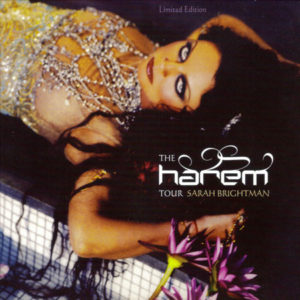 This Limited Edition CD was only available at certain venues during the Harem tour, and has never been available commercially. A full-length CD, it contains thirteen rare and never-before-released tracks. Sarah provided liner notes on the background of each song, which are as follows.
"Kama Sutra" was recorded during the HAREM sessions. It was meant to be the opening song but we thought that the intro of HAREM would be long enough. "Join Me" is a cover version of a song by the Finnish band HIM. It was recorded and released on the 3rd album by Gregorian.
"My Imagination" was recorded about 3 years ago before we started to record HAREM.
"Don't Give Up" was my first collaboration with Gregorian for their first album.
"Forbidden Colours" was originally recorded for the La Luna album but it didn't match with the other songs. We never really finished it.
"The Smile" is one of the two songs that I recorded with the German dance/chill out act Schiller that was included on their album Leben.
"Pay No Mind" was one of the first dance tracks I recorded after "Starship Trooper". It was meant to be included on the Eden album but we opted against it at that time. Our friend Perplexer finished it for this album.
"A Question of Honour" — this is a very rare extended version from the first single release of this song. A later version of this piece got reissued with a new mix and finally became a big hit in Germany.
"Voyage Voyage" is one of my favourite tracks since the 80's when it was a huge hit all over Europe and I am happy to include it on this compilation. This cover version was only released as a bonus track for a few markets with Gregorian on their 2nd album.
"Colours of the Rainbow" is another song that was amongst the first drafts for Harem. We decided against it as it seemed a bit too simple.
"The Secret Still Remains" features me as a guest vocalist with the German Trance/Dance act Sash!
"I've Seen it All" is another track that I recorded with Schiller. They didn't release it, yet, so I thought, I should.
"Watermark" is my vocalize version of a beautiful instrumental by Enya. It was recorded for the TIMELESS album but we never finished it after Enya and her record company (which was also mine at that time) threatened to put an injunction on my album.
Track Listing
1. Kama Sutra
2. Join Me
3. My Imagination
4. Don't Give Up
5. Forbidden Colours
6. The Smile
7. Pay No Mind
8. A Question of Honour
9. Voyage Voyage
10. Colours of the Rainbow
11. The Secret Still Remains
12. I've Seen It All
13. Watermark