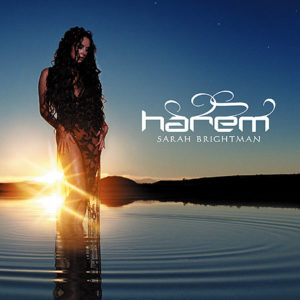 Heady and intoxicating, Harem is, without doubt, the most expansive and cinematic of Sarah's albums yet. The same artistry that, in previous albums, was used to interlace pop with opera, is evident here yet again.
This time, Sarah and producer Frank Peterson deftly intermingle their contemporary and, at times, dance-oriented sensibilities with the exotic instrumentation and melodic phrases of bygone eras. Nowhere is this fusion more pronounced than in the mesmerizing title track, "Harem."
Although this album is a departure from her recent classical crossover albums, one song features Sarah's operatic voice. On "It's A Beautiful Day," Puccini's "Un Bel di" is artfully coalesced with driving synthesizer beats and Middle Eastern refrains.
Sarah's voice is complemented by Nigel Kennedy's touching violin passages and Kadim Al Sahir's strapping vocals on the melancholy and mournful "The War is Over."
In "What You Never Know" and "Free," Sarah delivers intimate renditions, exposing the raw vulnerability that her fans find so endearing and seductive.
Sarah takes on an active writing role in this album and is credited with writing or co-writing the lyrics and/or music to "Harem", "It's A Beautiful Day," "Free," "The War Is Over Now" and "You Take My Breath Away." Lyrics that speak of myth and fantasy weave through the album.
On "Voyage" in "Arabian Nights," she writes:
Wilderness to wilderness
I traveled from afar
On the soft wind of the Nadq
Came the fragrance of Araar
On "Until the End of Time" Sarah's lyrics read:
Around the world in eighty days, we sailed the seven seas
A thousand nights and one, and forty more in fantasy
The prophecy in destiny was falling
Calling… falling… and calling out to me
Lyrically and musically, Harem casts a spell from the very first notes and holds the listener captive till the very end.
Track Listing
1. Harem
2. What A Wonderful World
3. It's A Beautiful Day
4. What You Never Know
5. The Journey Home
6. Free
7. Mysterious Days
8. The War Is Over Now
9. Misere Mei
10. Beautiful
11. Arabian Nights
12. Stranger In Paradise
13. Until The End Of Time
Bonus/Unreleased Tracks:
You Take My Breath Away (USA only)
Guéri De Toi (except USA & Japan)
Tout Se Que Je Sais (except USA & Japan)
Sarahbande (Japan only)
Namida ("When Firebirds Cry") (Japan only)