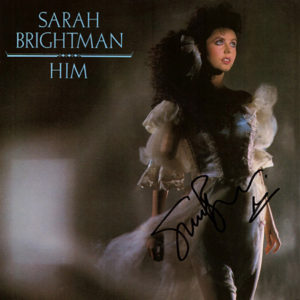 Him was arranged and produced by Andrew Lloyd Webber, with Sarah performing to accompaniment by the Royal Philharmonic Orchestra. All the music and performance royalties from this adaptation were donated to The Royal College of Music's Centenary Appeal.
Lyrics are by Richard Stilgoe, while the music is based on Hubert Parry's (1848-1918) "Dear Lord and Father of Mankind" from the oratorio "Judith." Parry is best known as the composer of Jerusalem and was Director of The Royal College of Music from 1895 to 1918.
While the music has spiritual origins, "Him" seems less like a reference to God than to a mortal man:
"Though every morning when I wake
The day outside looks grim.
I look around and then I see
Him lying there, he's next to me.
I didn't dream of him.
I didn't dream of him."
The B-side of this single features a recording by Sarah of "Memory" from Andrew Lloyd Webber's musical, Cats.
Track Listing
1. Him
2. Memory