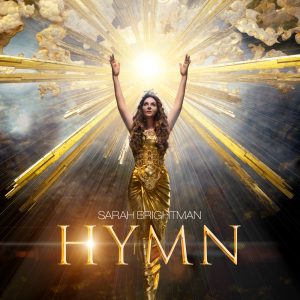 Hymn is an inspirational collection of orchestrated, choir-based songs that Brightman says felt soothing to record after she came down to earth "with an enormous bump," as she puts it. "I think musicians in particular start from whatever it is they're going through." The album isn't religious, she says, and it doesn't include any traditional "church songs." "I kept thinking about this word, 'hymn,' and what it reminded me of. To me, it suggests joy — a feeling of hope and light, something that is familiar and secure. And that's something I really needed at that point in my life. Every project I've done has come from an emotional place."
For Hymn, Sarah reunited with long-time producer and collaborator Frank Peterson, with whom she has made Dive (1993), Fly (1995), Timeless (Time To Say Goodbye) (1997), Eden (1998), La Luna (2000), Harem (2003), Symphony, and A Winter Symphony (both 2008).
Hymn was recorded over the past two years in Hamburg, Miami, London, Vancouver, Los Angeles, New York, and Budapest.
Track Listing
1. Hymn
2. Sogni (featuring Vincent Niclo)
3. Sky and Sand
4. Canto Per Noi
5. Fly to Paradise (featuring Eric Whitacre Singers)
6. Gia Nel Seno (La Storia Di Lucrezia)
7. Follow Me
8. You
9. Better is One Day
10. Tu Che M'Hai Preso Il Cuor
11. Miracle (featuring Yoshiki)
12. Time to Say Goodbye