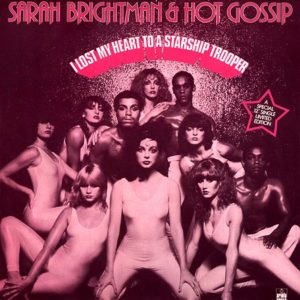 "I Lost My Heart To A Starship Trooper," Sarah's first single, was a solo project she undertook while still signed to the sultry dance group, Hot Gossip.
Due to contractual obligations to Hot Gossip, artist credits were shared with the dance group; hence, the billing, "Sarah Brightman and Hot Gossip." The single was released in 1978 and became a runaway hit, propelling her to disco stardom at the age of 18.
The A-side, "I Lost My Heart to a Starship Trooper" capitalizes on the pre-occupation at the time with outer space (brought to a frenzy with the release of Star Wars). The song incorporates abundant "space effects," including lasers, space ships, computer bleeps and radio chatter.
Additionally, reference is made in the lyrics to Darth Vader, Flash Gordon, Close Encounters of the Third Kind ("Close Encounter Three" in the song), and Starfleet (as in Star Trek).
Throughout the song, Sarah sings to Captain Strange, the starship trooper to whom she has indeed lost her heart. At one point, the space suit is even "lying on the control room floor."
As the song ends, the spaceship goes off course, perhaps because the crew is…otherwise occupied?
With such fanciful lyrics, is it any wonder that, 25 years later, this song is still "cult"? To this day, references are made to it during British press interviews with Sarah (most recently on So Graham Norton).
The B-side is entitled "Do, Do, Do." Though lacking the fantastical allusions of "Starship Trooper," it is perhaps even more lyrically explicit…
Well I'm looking for love and hope.
Cause I know that I just can't cope
With a kinky sponge and soap on a rope.
This single was also released with different cover art in certain parts of the world.
Track Listing
1. I Lost My Heart to a Starship Trooper
2. Do, Do, Do