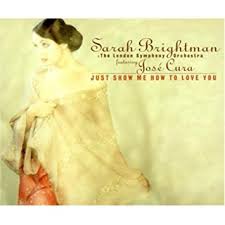 This is the first single from the Timeless/Time To Say Goodbye album and was released prior to the release of the full-length CD. It follows in a similar vein to "Time to Say Goodbye."
Just Show Me How To Love You," which also has a refrain in English, is Sarah's duet with reknowned tenor, Jose Cura.
The two additional tracks are live recordings of "O Mio Babbino Caro" from Gianni Schicci by Puccini (also on the Timeless CD) and "Regnava Nel Silenzio," from Lucia Di Lammermoor by Donizetti (available only on this CD single).
Track Listing
1.Just Show Me How To Love You
2.O Mio Babinno Caro
3.Regnava nel silenzio