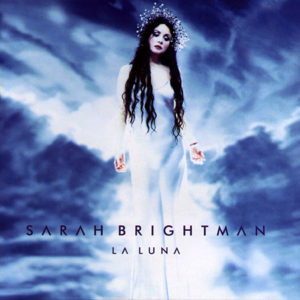 Nothing is as evocative of romance and of alienation as the moon. Nothing is at once so barren, yet so vivid.
La Luna manages to capture not only the enigma that is the moon but its elusive beauty as well. Sarah achieves this, not by tethering her lyrics to the theme, but with the artful use of voice and orchestration.
The album opens with "La Lune," gauzy and moody, laced with ambient sounds and voice samples. This sets the tone for the infectious "Winter in July." (These two tracks are not on the European release, which features a slightly different tracklist).
In the meantime, haunting background vocals on "This Love" and Beethoven's "Figlio Perduto" leave them to linger in the listener's head long after the songs are over.
On "Gloomy Sunday," Sarah's silky voice stands in stark contrast to Billie Holiday's smoky rendition.
In this album, Sarah can be heard gliding seamlessly between classical adaptations, '60s anthems and contemporary pop tracks in English, Italian, Spanish, French, even Russian.
In the hands of conventional artists, Handel's "Solo Con Te" would never co-exist on the same album with the trip-hoppy "This Love," much less be adjacent to it.
At times, the transition between Sarah's pop and opera voices is made within a single song, like on the US version of Dvorak's "La Luna." Conversely, Sarah uses her full operatic voice throughout the European version of "La Luna."
Indeed, La Luna's material showcases Sarah's uncanny ability to sing anything under the moon. Whether it is Rachmaninov or Beethoven, Simon & Garfunkel or the Bee Gees, Sarah deftly bridges the ages for a timeless collection.
Track Listing
USA release (Angel)

1. La Lune
2. Winter in July
3. Scarborough Fair
4. Figlio Perduto
5. A Whiter Shade of Pale
6. He Doesn't See Me
7. Serenade
8. How Fair This Place
9. Hijo de la Luna
10. Here With Me
11. La Califfa
12. This Love
13. Solo con Te
14. Gloomy Sunday
15. La Luna
Hidden track: Moon River
European release (East-West)

1. This Love
2. Scarborough Fair
3. Figlio Perduto
4. La Califfa
5. Here With Me
6. Serenade
7. How Fare This Spot
8. Hijo De La Luna
9. She Doesn't See Him
10. Solo Con Te
11. Gloomy Sunday
12. La Luna
Encore Track: First of May (Live)