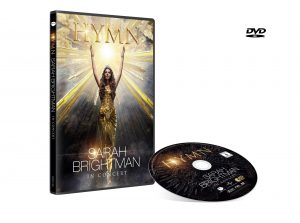 UK IMPORT
Sarah Brightman HYMN IN CONCERT film released on DVD November 15th, 2019.
DVD bonus features include exclusive behind the scenes footage, interviews and photo galleries.
Filmed in the enchanting Ludwigs Festspielhaus at the foot of the Bavarian Alps in Germany, Sarah Brightman HYMN IN CONCERT is a hybrid of musical film, opera and concert and features beloved favourites and selections from her beautiful new album, HYMN. Accompanied by her band, the 40-piece Bavarian Philharmonic orchestra, a 50-voice choir and the Ludwig Ensemble of dancers the show and amazing special guests: Yoshiki, Vincent Niclo, Mario Frangoulis and Narcis.
DVD Tracklisting:
ACT 1
Gothica
Fleurs Du Mal
Stranger In Paradise
Carpe Diem feat. Mario Frangoulis
Anytime Anywhere
Gia Nel Seno
(La Storia Di Lucrezia)
Misere Mei
Beautiful
Follow Me
Figlio Perduto
Who Wants To Live Forever
Tu Che M'Hai Preso Il Cuor
Miracle (Sarah's Version) feat. Yoshiki
ACT 2
Hymn Overture
Hymn
Sogni feat. Vincent Niclo
There For Me feat. Vincent Niclo
Better Is One Day
Canto Per Noi
Pie Jesu feat. Narcis
Fly To Paradise
Time To Say Goodbye
Masquerade
Phantom Of The Opera feat. Mario Frangoulis
Sky And Sand
Bonus Content:
Hymn In Concert – Behind The Scenes
Hymn The Album Production
Hymn Track By Track Review
Photo Slideshow