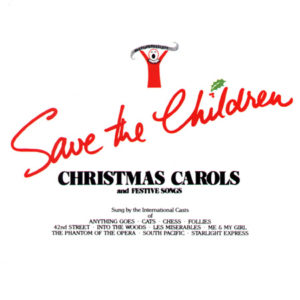 This double CD is a collection of "Christmas Carols and Festive Songs" sung by the international casts of Anything Goes, Cats, Chess, Follies, 42nd Street, Into the Woods, Les Miserables, Me & My Girl, The Phantom of the Opera, South Pacific and Starlight Express.
Sarah sings solo on "In the Bleak Midwinter" and can be heard as a part of the company with a brief solo on the song "Save the Children."
Robert Mackintosh writes in the liner notes:
The idea of bringing together twenty international casts, six symphony orchestras, travelling over 40,000 miles and spending nearly four months recording at studios in London, Sydney, and New York at first seemed a daunting task.
However, the enthusiasm and willingness to help, from everyone that has given of their time and talent has been quite overwhelming, making this the most enjoyable and rewarding project in which I have been involved.
My co-travellers, as a part of the roving production team – Norman Newell and John Kurlander – deserve special thanks for their untiring dedication to this project. Never once flinching at the awesome recording schedule!
Of course, the key to this project being made possible, has been the total support of the Save the Children Fund, whose work and dedication to children has been our inspiration.
Christmas, this year and hopefully for many to come, should bring an extra smile to all of those who have been a part of this very special recording – in the knowledge that the end result will bring a smile to children everywhere – and to some, maybe the first."
This album was also re-released as A Christmas Spectacular of Carols and Songs (including on VHS) featuring different cover art.
Track Listing
Disc 1
1.The Christmas Overture – The London Symphony Orchestra
2.Silver Bells – Me & My Girl Company, New York
3.The Very Best Time of Year – Phantom of the Opera Company, New York
4.Away In A Manger – Cats Company, New York
5.We Wish You A Merry Christmas – South Pacific Company, London
6.A Winter Boy – Colm Wilkinson
7.Have Yourself A Merry Little Christmas – Cats Company, London
8.Go Tell It On The Mountain – Starlight Express Company, New York
9.When A Child Is Born – Phantom of the Opera Company, London
10.White Christmas – Me and My Girl Company, London
11.Happy Christmas Little Friend – South Pacific Company, London
12.While Shepherds Watch – 42nd Street Company, New York
13.In The Bleak Mid-Winter – Sarah Brightman
14.We Three Kings – Cats Company, New York
15.Good King Wenceslas – 42nd Street Company, London
16.The First Nowell/Hark! The Herald Angels Sing – Into the Woods Company, New York
17.Silent Night – Anything Goes Company, New York
Disc 2

1.Let's Pretend – Michael Crawford and children from Sylvia Young's Theatre School
2.Joy To The World – Les Miserables Company, New York
3.The Most Wonderful Birthday Of All – Les Miserables Company, New York
4.Ding Dong Merrily On High – Les Miserables Company, London
5.O Come All Ye Faithful – Les Miserables Company, Sydney
6.God Rest You Merry Gentlemen – Chess Company, London
7.Candlelight Carol – Starlight Express Company, New York
8.In Dulci Jubilo – Phantom of the Opera Company, New York
9.Ave Maria – Elaine Page
10.I Watch You Sleeping – Frances Ruffelle
11.Happy Christmas (War Is Over) – Lon Satton
12.Winter Wonderland – Phantom of the Opera Company, London
13.Santa Claus Is Coming To Town – 42nd Street Company, London
14.I Saw Mommy Kissing Santa Claus – 42nd Street Company, New York
15.Frosty The Snowman – Bonnie Langford
16.Rudolph The Red-Nosed Raindeer – Follies Company, London
17.Mary's Boy Child – Starlight Express Company, London
18.Save The Children – London & New York