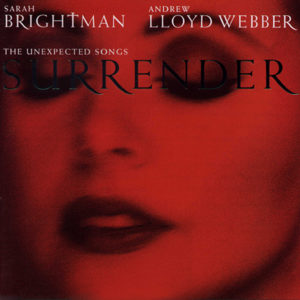 Surrender was released five years after the end of Sarah's marriage to Andrew Lloyd Webber, a testament to their continued mutual professional respect.
The description below is taken from the album's liner notes, written by Lloyd Webber:
"I first worked with Sarah Brightman in 1980 when she joined the original cast of CATS. I was always very impressed by the potential of her voice and began writing for her in 1983.
Sarah and I were married between 1984 and 1990 and during that time Sarah created the original role of Christine in THE PHANTOM OF THE OPERA and premiered the soprano role in REQUIEM. She created "The Music of Andrew Lloyd Webber" in the United States and subsequently went on to play the role of Rose in ASPECTS OF LOVE, both in London and New York to critical acclaim.
I continue to have a very high regard for her growing talent as a singer. Over the past three years we have developed this album, which either features songs that have never been recorded to my satisfaction before, or different versions of songs that are better known."
Surrender – "This is a recurring theme in SUNSET BOULEVARD, here expanded as a complete song in its own right."
Unexpected Song – "This was originally written as Variation 5 of VARIATIONS (1978), but when this was combined with TELL ME ON A SUNDAY as SONG AND DANCE, lyrics by Don Black were set to it for its television premiere by Sarah Brightman in 1984. Although a highlight of Sarah's concert programme, it has never been recorded with a full orchestra."
Chanson d'enfance – "This is the Pyreneean theme from ASPECTS OF LOVE, expanded with a new section composed this year with the proposed film of the musical in mind. Sarah Brightman had a major critical success both in London and on Broadway as Rose in this production."
Tell Me on a Sunday – "The title song of the one-woman show, this is recorded here with a full orchestra by Sarah for the first time."
Nothing Like You've Ever Known – "Another song from TELL ME ON A SUNDAY, here included with an orchestration by the late Larry Wilcox. It is the first time the orchestration has been played or recorded."
Macavity: The Mystery Cat – "Written for CATS, Sarah and I wanted to include this song to show a completely different side of her voice."
Gus: The Theatre Cat – "This is another song that has been in Sarah's concert repertoire for a long time. We had the exciting opportunity of working with Sir John Gielgud on this occasion."
Piano (Memory – Italian version) – "Best known as "Memory" in CATS and premiered for a lower and very different voice than Sarah's in that show, it was originally composed for an idea I had to write a short opera about the rivalry of the composers Leoncavallo and Puccini on the subject of La Boheme. Leoncavallo's version opened to good reviews. Puccini's did not and was an instant hit. There is not space to go into here what the role of this melody would have been if I had ever finished the piece, but suffice it to say that those who observe that "Memory" is Pucciniesque are dead right. It was meant to be. The Italian translation gave us a chance to record the song in the way it might have been scored if the original idea had been completed."
Everything's Alright – "Another song that has been part of Sarah's concert programme over the last few years."
The Last Man in My Life – "Another song from TELL ME ON A SUNDAY and another highlight of Sarah's concert programme. It too has not previously been recorded with its full orchestration."
Pie Jesu – "This is the original recording from REQUIEM. I find it interesting to hear how much Sarah's voice has changed in the last ten years."
Amigos Para Siempre (Friends For Life) – This song was commissioned from me as the theme tune to the Olympic Games held in Barcelona in 1992 and performed live by Sarah Brightman and Jose Carreras at the closing ceremony, which was watched by a TV audience of 1.2 billion."
No Llores Por Mi Argentina – "This song, too, has been part of Sarah's concert repertoire for a long time, but never before in Spanish. This is the first version to be recorded with the original orchestration since the concept album in 1976."
Guardami (With One Look – Italian Version) – "This is the Italian translation of "With One Look" from SUNSET BOULEVARD. This song was originally written for the role of Norma Desmond, and ageing and reclusive star of the silent screen, and therefore was composed for a far different voice from Sarah's. But an early sketch of the melody reminded me that I had an idea to use it in a version of The Little Mermaid and of its potential for soprano. This project was never pursued. Somehow the words didn't fit well at all in a high key in English, a problem I have had with "Memory." One sing-through with an Italian translation solved the problem."
There is More to Love – "This was a late addition to the score of ASPECTS after its West End opening. It has been part of Sarah Brightman's concert repertoire and, again, has not been previously recorded by her."
Wishing You Were Somehow Here Again – "This is another highlight of Sarah's concert programme and was premiered by her when she played Christine in THE PHANTOM OF THE OPERA. Here it is newly recorded."
The Music of the Night – "The melody of this song was originally written for Sarah Brightman and was intended for an early draft of ASPECTS OF LOVE. However, it found its way into PHANTOM, sung by the Phantom. Sarah Brightman has sung the song in concert for several years and this is the first time she has reclaimed it on record."
Track Listing
1. Surrender (from: Sunset Boulevard 1993)
2. Unexpected Song (from: Song and Dance 1982)
3. Chanson d'Enfance B (from: Aspects of Love 1989)
4. Tell Me on a Sunday (from: Tell Me on a Sunday 1979)
5. Nothing Like You've Ever Known
6. Macavity: The Mystery Cat (from: Cats 1981)
7. Gus: The Theatre Cat (from: Cats 1981)
8. Piano [Memory] [Italian Version] (From: Cats 1981)
9. Everything's Alright (from: Jesus Christ Superstar Concept Album 1970)
10. Last Man in My Life (from: Song and Dance 1982)
11. Pie Jesu (from: Requiem 1985)
12. Amigos Para Siempre (Friends for Life)
13. No Llores Por Mi Argentina (Don't Cry for Me Argentina) (from: Evita 1979)
14. Guardami (With One Look) [Italian Version] (From: Sunset Boulevard 1993)
15. There Is More to Love (from: Aspects of Love 1989)
16. Wishing You Were Somehow Here Again (from: The Phantom of the Opera 1986)
17. Music of the Night (from: The Phantom of the Opera 1986)