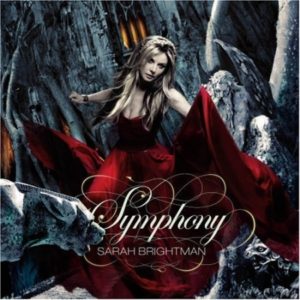 Each of Sarah's albums makes a strong personal statement that cuts right through to the heart and soul of the individual listener. This album is certainly no exception.
The word "symphony" is defined as "a harmonious combination of elements, especially an effective combination of colors" – and this album luminously exemplifies the meaning of that word.
Exploring a bold range of styles, Sarah has created another collection of material that cannot be easily categorized, but remains entirely accessible to lovers of various musical genres. From the Gothic tempestuousness of "Fleurs du Mal," to the pleading "Let It Rain," Symphony is teeming with both audacious defiance and vulnerable sensuality.
"Whereas most singers gravitate towards vocal works, I have always been far more drawn to symphonic work," says Sarah, "where the composer paints a story that the listener can see without opening their eyes. Over the past four years of recording this album, I find myself approaching my music even more visually than I ever have before. I found that the canvas was endless for this album."
Sarah adds that the album earned its title because it is truly "a coming together of many different elements to create consonance with harmonious textures that still hold true to a common thread running down the centre of the album. Throughout my career I have worked in so many different styles of music," says Sarah. "This is the first album where all of these styles come together to create a very diverse musical landscape."
Recorded in Germany, the USA, and the UK, Symphony features all new songs, and was created by Sarah with long-time producer, Frank Peterson. In addition to reuniting her with Andrea Bocelli on the sweeping, romantic "Canto Della Terra", this characteristically eclectic album features collaborations with Spanish countertenor sensation Fernando Lima ("Pasión"), Italian tenor Alessandro Safina ("Sarai Qui"), and rock superstar Paul Stanley of KISS ("I Will Be with You").
Another highlight is "Running," the International Association of Athletics Federation Green Project Charity song, which Sarah performed at their Championships opening ceremonies in Osaka, Japan.
2008
CD Album Worldwide
Manhattan Records (EMI)
Track Listing
1. Gothica
2. Fleurs Du Mal
3. Symphony
4. Canto Della Terra
5. Sanvean
6. I Will Be With You
7. Schwere Träume
8. Sarai Qui
9. Storia D'Amore
10. Let It Rain
11. Attesa
12. Pasión
13. Running