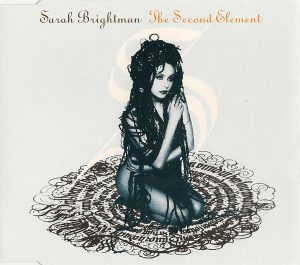 Produced by Frank Peterson with Sarah, The Second Element is the second single released from the Dive album.
The CD single features three album tracks and one non-album track, namely "The Second Element," "The Second Element" (Album Version), "Island," and "Rain."
The non-album track, "Rain," is especially notable because this Frank Peterson composition features lyrics written by Peterson and Sarah's sister, Nichola Brightman.
Until the release of the La Luna Tour version of Fly 2, this was the only recording on which "Rain" was available.
Track Listing
1.The Second Element
2.The Second Element ( Album Version)
3.Island
4.Rain