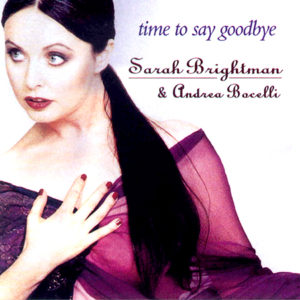 Sarah had been commissioned to perform a song for the farewell championship fight of boxer Henri Maske (for whose boxing match "A Question of Honour" had been the official song) when she heard "Con Te Partiro" by (the then relatively unknown) Andrea Bocelli.
"Con Te Partiro" fit the bill and was reworked by Frank Peterson, who added the Bolero-esque snare drums, among other changes. The song was re-recorded as a duet by Sarah and Andrea Bocelli and re-titled "Time to Say Goodbye."
The song was performed live at the emotionally-charged farewell boxing match and became an instant worldwide phenomenon. Selling five million copies worldwide, it still stands as the biggest selling single in German history.
The CD-single of Time to Say Goodbye also contains a previously unreleased song "Sleep Tight" (now available on the extra maxi-cd from the Eden Millenium Edition), "You Take My Breath Away" from Fly, and Sarah's Intimate Version of "Time to Say Goodbye."
The European release, which features a photo of Sarah and Andrea Bocelli on the cover, contains the same tracklist. The US release is pictured here.
When the single became an overnight sensation, no full length CD was forthcoming on which "Time to Say Goodbye" could immediately be featured. Hence, Fly was re-released with this hit sensation added to the tracklist.
Track Listing
1.Time to Say Goodbye
2.Sleep Tight
3.You Take My Breath Away
4.Time to Say Goodbye (Sarah's Intimate Version)