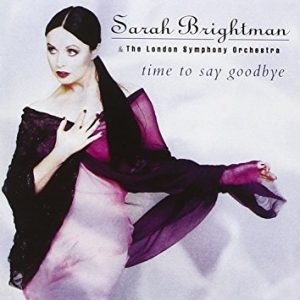 This, of course, is the album on which the international smash hit "Time to Say Goodbye" feels most at home. This platinum breakthrough topped the Billboard Classical Crossover chart in the U.S. for a staggering 35 weeks, sold three million copies worldwide and went gold or platinum in 21 countries.
Recorded with the London Symphony Orchestra, this album takes on a decidedly more classical feel. It was released in Europe by East-West as Timeless, and in the US as Time To say Goodbye on Angel Records (EMI's classical label).
The album includes multiple operatic arias as well as two passionate duets with the famous tenor, Jose Cura. It also features live performances of Mozart's "Alleluja" and "O Mio Babbino Caro" (first recorded by Sarah as the B-side to the "Theme from a Room with a View" single in 1987).
Timeless/Time to Say Goodbye does not comprise solely of classical material. Some of the more notable tracks are, in fact, covers of rock, folk and pop songs.
Sarah's gorgeous interpretation of "Tu Quieres Volver" stands in stark contrast to the Gipsy Kings' original version and showcases her remarkable range as she climbs unexpectedly to a spine-tingling B-flat above high C (almost 3 octaves above middle-C!).
Other covers include her soothing interpretation of Queen's "Who Wants to Live Forever" and Mecano's "Naturaleza Muerta," the perfect vehicle for Sarah's touchingly crystalline voice.
Track Listing
1. No One Like You
2. Just Show Me How To Love You
3. Tu Quieres Volver
4. In Pace
5. There For Me
6. Bilitis-Gènèrique
7. Who Wants To Live Forever
8. La Wally
9. Naturaleza Muerta
10. En Aranjuez Con Tu Amor
11. In Trutina
12. Time To Say Goodbye
13. O Mio Babbino Caro
14. Alleluja