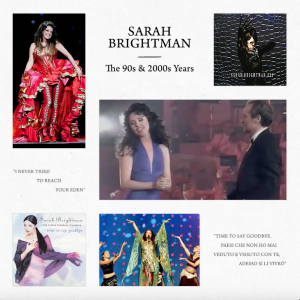 Sarah's new album HYMN is Available Now! We continue to reflect back on her extraordinary career and celebrate some incredible highlights throughout the 90s and 2000s.
In 1992, Sarah performed at the Barcelona Olympic Games alongside José Carreras, singing the theme song 'Amigos Para Siempre' for over 3 billion people. After this spectacular event, Sarah requested to work with Frank Peterson, one of the members of the German band, Enigma. Sarah and Frank's first release was Dive in 1993, followed by Fly in 1995.
Sarah released Timeless/Time to Say Goodbye in 1997, which is still her biggest-selling album to date and has sold over 12 million copies. Sarah's next three albums were Eden in 1998, La Luna in 2000 and Harem in 2003, all of which were accompanied by world tours. The Harem World Tour alone sold 700,000 tickets.
In 2008, Sarah sang at the Beijing Olympics opening ceremony, which was broadcast to over five billion people. This year, she also released her first album in five years, Symphony, as well as her first holiday album, A Winter Symphony and embarked on The Symphony World Tour…
Next, we will journey through Sarah's career in 2010 and beyond …