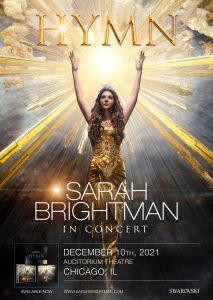 Sarah's HYMN in Concert Tour is coming to Chicago in December!
December 10, Chicago, IL, The Auditorium Theatre
Chicago is also home to the beautiful Millennium Park, a 24.5-acre public park featuring gardens, public art spaces, a theatre and more. Because it sits atop a parking garage and a commuter rail station, it is considered the world's largest rooftop garden. It is also one of the Top 10 most popular tourist attractions in the U.S.
Tickets and VIP packages to all announced HYMN in Concert shows are available HERE.